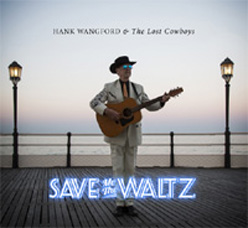 I wanted to keep the gatefold cover as clear as possible not covering it with writing. But I want to tell you all more about the Waltz, the Songs and to know exactly who is playing on what tracks.

Sixteen of these tracks are new recordings for this project, thirteen recorded at Rock of London, a funky little studio in the Hackney Road packed with glorious analogue machines, old BBC Neve mixing desks and vintage microphones. Our favourite mike was a 1965 Telefunken bought from Abbey Road and clearly used by the Fab Four. As a tribute to the mike I double tracked my vocals Lennon-style on Baby's In Black.
There was some concern within the more rock 'n roll ranks of the Lost Cowboys that a whole album – let alone a double album – of waltzes might get a bit boring.  But as we approached the thirteenth waltz in the studio no one seemed to be flagging.  In fact Martin, BJ, Roy, Anna and Kevin played and sang flawlessly.

When the thirteenth track was finished Kevin put his bass down, stood in the middle of the studio, punched the air and roared
"All Right! Hallo London!! ARE YOU READY TO WALTZ?!!"
There are many different ways to play a waltz. 

Often the first of the three beats is accentuated and the second and third beats are like afterthoughts. 

One Hispanic style of waltz heard in Texan music has the second and third beats much harder than the first. 

Some Viennese waltzes are played rubato dragging and varying the tempo of the rhythm, a sort of Willie Nelson approach to classical music.
Then there is the human heartbeat, the rhythm of life. It is a one-legged waltz – lubb dup (rest), lubb dup (rest), lubb dup (rest), lubb dup (rest) – hammering at us for nine months in our mother's womb before we waltz out kicking and screaming into the world.           
Hank Wangford - February 2014
The Recordings

CD 0NE  -  THE LIGHT
I LOVE YOU SO MUCH IT HURTS ME  3:21  - Floyd Tillman  APRS
Hank Wangford – vocals / tenor ukulele
Anna Robinson – harmony vocals
BJ Cole – pedal steel guitar
Martin Belmont – guitar and 6-string click bass
Kevin Foster – bass
Roy Dodds – drums and percussion
SUNK WITHOUT TRACE   3:15 -  Hank Wangford  $incere $ongs/Bug Music
Hank Wangford – vocals / guitar 
Anna Robinson – harmony vocals
BJ Cole – dobro
Martin Belmont – acoustic & electric guitars
Kevin Foster – bass
Roy Dodds – drums and percussion
PERMANENTLY LONELY  4:18 - Willie Nelson  Sony/ATV Tree Publishing
Hank Wangford – vocals / tenor ukulele
Anna Robinson – harmony & backing vocals
BJ Cole – pedal steel guitar
Martin Belmont – electric guitar and 6-string click bass
Kevin Foster – bass
Roy Dodds – drums
LES FEUILLES MORTES (AUTUMN LEAVES) 5:27 - J Kosma & J Prevert
Hank Wangford – vocals / Spanish guitar  
Anna Robinson – vocals
BJ Cole – dobro
Martin Belmont – electric guitar
Kevin Foster – bass
Roy Dodds – drums and percussion
Ian Smith – muted trumpet
SLOW DOWN OLD WORLD  2:43 - Willie Nelson Sony/ATV Tree Publishing
Hank Wangford – vocals / tenor ukulele
Anna Robinson – harmony & backing vocals
BJ Cole – pedal steel guitar
Martin Belmont – 6-string bass guitar and click bass
Kevin Foster – bass
Roy Dodds – drums
GET ACQUAINTED WALTZ  2:45 – Ira & Charlie Louvin
Hank Wangford – vocals / tenor ukulele
Anna Robinson – harmony vocals
BJ Cole – dobro 
Martin Belmont – acoustic guitar
Kevin Foster – bass
Roy Dodds – drums
SAVE ME THE WALTZ  4:02 - Hank Wangford  $incere $ongs/Bug Music
Hank Wangford – vocals / 6-string tenor ukulele
Anna Robinson – harmony vocals
BJ Cole – dobro 
Martin Belmont – rhythm & electric guitar
Kevin Foster – bass
Roy Dodds – drums
Ian Smith – trumpets
HALF A MAN   4:08 - Willie Nelson  Sony/ATV Tree Publishing
Hank Wangford – vocals & harmony vocal 
BJ Cole – pedal steel guitar
Martin Belmont – Fender 6-string bass
Kevin Foster – bass
Roy Dodds – drums
CONCRETE & BARBED WIRE  3:11 - Lucinda Williams
Anna Robinson – lead vocals / guitar
Hank Wangford – harmony vocals
BJ Cole – pedal steel guitar
Martin Belmont – electric guitar
Kevin Foster – bass
Roy Dodds – drums
SAY ITS NOT YOU  2:31 – Dallas Frazier
Hank Wangford – vocals / guitar
Anna Robinson – harmony & backing vocals
BJ Cole – pedal steel guitar
Martin Belmont – 6-string click bass
Kevin Foster – bass
Roy Dodds – drums
HOMELESS HEART  3:44 - Hank Wangford  $incere $ongs/Bug Music
Hank Wangford – vocals & harmony vocals / guitar
Anna Robinson – harmony vocals
BJ Cole – pedal steel guitar
Martin Belmont – guitar
Kevin Foster – bass
Roy Dodds – drums
IMAGE of ME  3:46 – Wayne Kemp
Hank Wangford – vocals / tenor ukulele
Anna Robinson – harmony & backing vocals
BJ Cole – pedal steel guitar
Martin Belmont – Fender 6-string bass & click bass
Kevin Foster – bass & backing vocals
Roy Dodds – drums
SIN CITY 3:37 - Parsons / Hillman   Universal Music
with Billy Bragg
Billy Bragg – vocals / guitar   Hank Wangford – vocals / mandolin
CD TWO  -  THE DARK
WHISTLING IN THE DARK  1:37 - Hank Wangford  $incere $ongs/Bug Music
(From the album Whistling In The Dark)
Hank Wangford – vocals / tenor ukulele
BJ Cole – dobro
WALTZING WITH SIN  5:02 – Joe Hayes  Fort Knox Publishing
with Rev Larry Love of Alabama 3  
Rev Larry Love – vocals & sermonising
Rev Hank Wangford – vocals
BJ Cole – pedal steel eBow and distortion
The Love O'Connell Orchestra –
Guitar = Brendan O'Connell
Bass = Colin (DOC) Williamson
Guitar = Chad Roberts
Drums = Owen If
Violin = Dimitri Van Zwanenberg
WALTZ OF THE SEASONS 3:46 - Hank Wangford  $incere $ongs/Bug Music
(From the album Best Foot Forward)
Hank Wangford – vocals
Reg Meuross – harmony vocals
Martin Belmont – acoustic & electric guitars
Kevin Foster – bass
Roy Dodds – drums
BABY'S IN BLACK  2:23 – Lennon / McCartney  Sony/ATV
Hank Wangford – harmony vocals
Anna Robinson – harmony vocals
BJ Cole – pedal steel guitar and distortion
Martin Belmont – electric guitar / tenor guitar
Kevin Foster – bass
Roy Dodds – drums
EXCUSES 2:42 - Hank Wangford   $incere $ongs/Bug Music
Featuring Dolores Keane & Mairtin O'Connor (from the album Stormy Horizons)
Hank Wangford – vocals / guitar
Dolores Keane – vocals
Martin Belmont – open tune acoustic guitar
Mairtin O'Connor – button accordion
Bobby Valentino – fiddle
Clare Kenny – bass
Alan Coulter – drums
SAD SONGS & WALTZES  2:52 - Willie Nelson  Sony/ATV Tree Publishing
Hank Wangford – vocals / tenor ukulele
Anna Robinson – harmony vocals
BJ Cole – pedal steel guitar
Martin Belmont – acoustic guitar and 6-string click bass
Kevin Foster – bass
Roy Dodds – drums
ANYWAY  2:43 - Hank Wangford   $incere $ongs/Bug Music
(from the album Stormy Horizons)
Hank Wangford – vocals / guitar
Martin Belmont – acoustic lead guitar
Reg Meuross – harmony vocals / guitar
Bobby Valentino – fiddle
Clare Kenny – bass
LIES  4:16 - Hank Wangford    $incere $ongs/Bug Music
Hank Wangford – vocals / tenor ukulele
Anna Robinson – harmony vocals
BJ Cole – pedal steel guitar
Martin Belmont – electric guitar and 6-string click bass
Kevin Foster – bass
Roy Dodds – drums
DEPORTEES  4:03 – Woody Guthrie / M Hoffman  Ludlow Music
with Billy Bragg 
Billy Bragg – vocals / guitar   Hank Wangford – vocals / mandolin
LONELY TOGETHER  3:18 - Hank Wangford    $incere $ongs/Bug Music
(From the album Whistling In The Dark)
Hank Wangford – vocals
Vashti – harmony vocals
BJ Cole – dobro & pedal steel guitar
Martin Belmont – acoustic rhythm guitar
Kevin Foster – bass
Roy Dodds – drums
END OF THE ROAD 2:46 - Hank Wangford    $incere $ongs/Bug Music
Featuring Mairtin O'Connor (from the album Stormy Horizons)
Hank Wangford – vocals / guitar
Reg Meuross – harmony vocals
Martin Belmont – guitar & Fender 6-string bass
Mairtin O'Connor – button accordion
Bobby Valentino – fiddle
Clare Kenny – bass
Alan Coulter – drums
HATS OFF TO ROGER  2:50 - Hank Wangford    $incere $ongs/Bug Music
Hank Wangford – vocals / tenor ukulele
Anna Robinson – harmony vocals
BJ Cole – pedal steel guitar
Martin Belmont – guitar and 6-string click bass
Kevin Foster – bass
Roy Dodds – drums & percussion
Will Roberts (age 14) – euphonium & trombone
Ian Smith – trumpet
Whistling In The Dark and Lonely Together produced by Hank Wangford and Roy Dodds
Waltz of the Seasons produced by Hank Wangford, Roy Dodds and Martin Belmont
Excuses and Anyway produced by Barry Farmer, Hank Wangford and Martin Belmont
Waltzing With Sin produced by Brendan O'Connell and Wizard Greg