MAY
Saturday 2nd
Hank Wangford & Brad Breath
Lewes Con Club
139 High St, Lewes
East Sussex BN7 1XS
01273 473076
Hank & Brad come back to Lewes fine Con Club to further spread the word about their love of Country music.
The Club has a well stocked bar that can satisfy any real ale pilgrim. This may help when Hank & Brad get really stuck in to the misery.
Tickets £10 for non-members & free for members.
For tickets go to the Con Club website www.lewesconclub.co.uk 
Check What's On and follow the directions
Doors to the music hall open at 8 but the Club doors are open much earlier so come and drink if you're the Designated Drinker.
Remember down in Country heartland they say "I'll drive. I'm too drunk to sing…"  
But naturally as followers of Health & Safety we don't condone this only comment.
Friday 15th
The Wangford Trio
Hank with Brad Breath & Spanner Robinson
Winforton Community Hall
Winforton
Herefordshire  HR3 6EA
It's been a while since Hank played Winforton and he's over the moon to be coming back with Brad and special chum Anna Robinson,
Harmonies will be flying everywhere as the Trio take you into their favourite Country backwaters.
And Herefordshire is a wonderful backwater. A great opportunity for fans to make a weekend in the country with spectacular beauty coming at you from all sides.
Doors open 7 and showtime 7.45
No bar but BYO encouraged
Tickets £10 grownups £5 kids or Family ticket for up to five £26
Tickets – call Alun on 01544 328425 or 01544 327085
Saturday 16th
Hank & Brad Breath
"No Hall Too Small"
France Lynch Church Rooms
Keble Road Stroud, Gloucs GL6 8LN
If the country around Winforton is beautiful wait till you see France Lynch. The Huguenot weavers who settled in these steep hidden little valleys around Stroud must have thought they'd died and gone to heaven at last. This village, a maze of tiny streets and passageways is so picturesque it's positively Continental.
Brad and Hank are delighted to have been invited back to bring another dose of Country to Gloucestershire.
Come and see what you missed last time.
Tickets £10 on 01453 731715 & 01453 882624
A bar with Budding Beer.
Doors 7pm showtime 7.30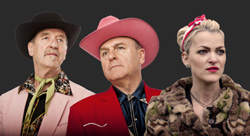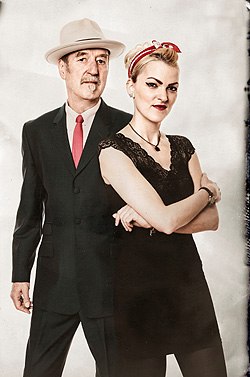 Hank with Anna (Spanner) Robinson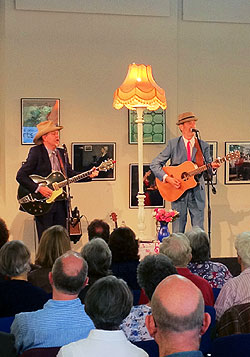 Photo credit: Nigel White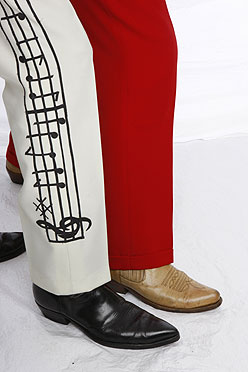 Photo credit: Trevor Leighton
those cowboy legs...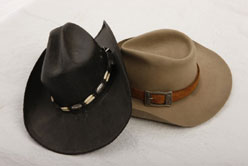 Photo credit: Trevor Leighton
two cowboy hats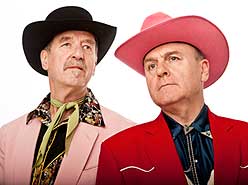 Photo credit: Trevor Leighton
Hank and Brad use PEAVEY amps & PA